05/05/2015
End of the Road
Oli Booth (website)
Victoria University of Wellington
Thesis Project
Faculty: Sam Kebbell
2012
Our natural landscapes are enormously precious to our national identity, our environment, and our economy. In order to protect those landscapes, successive governments have designated approximately one-third of the NZ landscape to public conservation estate and restricted the activities that can take place on that land. Existing privately owned buildings (baches, private huts for tramping clubs and the like) on this land are being incrementally handed over to the government or being removed. More and more, New Zealanders are becoming visitors to this land, and less and less guardians of it.
The thesis investigates how architecture can facilitate a genuinely public and inclusive guardianship of our public conservation estate. Specifically concerning the appearance of architecture within these environments and developing a responsive formal intervention that allows people to dwell within these landscapes and become custodians for its betterment. The outcome will propose a new typology to DoC that allows people to be a part of these landscapes in return for their efforts to reconnect these landscapes to their surrounding context.
The buildings will operate interdependently to help stimulate how areas within conservation land can undergo regeneration and support human occupation. These will be constructed at a small scale with a footprint of less than ten square metres that can expand when occupied and remain as sculptural objects in the landscape when not in use. The project is initially sited on the edges of Lake Kohangapiripiri on Wellington's south coast. This community will operate until the landscape has established sufficient regeneration to a point where it can continue on without the infrastructure. At this time the built elements will be removed by helicopter after a period of around 15-20 years and transported elsewhere to be re-established in another area of New Zealand's conservation estate.
This research notes that it is becoming increasingly more difficult for DoC to manage its responsibilities due to continuing budget and staff cuts, while the dynamic of the Kiwi holiday is also changing due to heightened costs of coastal land and the sale of private campgrounds. In doing so, it seeks to find ways in which both these issues can be addressed and reimagine ways in which we can continue to experience our natural landscapes.
Taking advantage of people increasing awareness to our environment and notions of sharing, it seeks to identify ways in which we can achieve common goals collectively (for DoC and the general public) to achieve greater outcomes.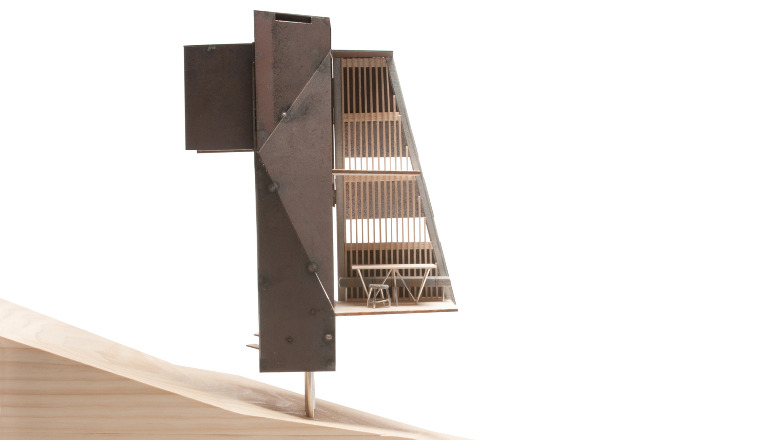 ↑ how can architecture return to these landscapes?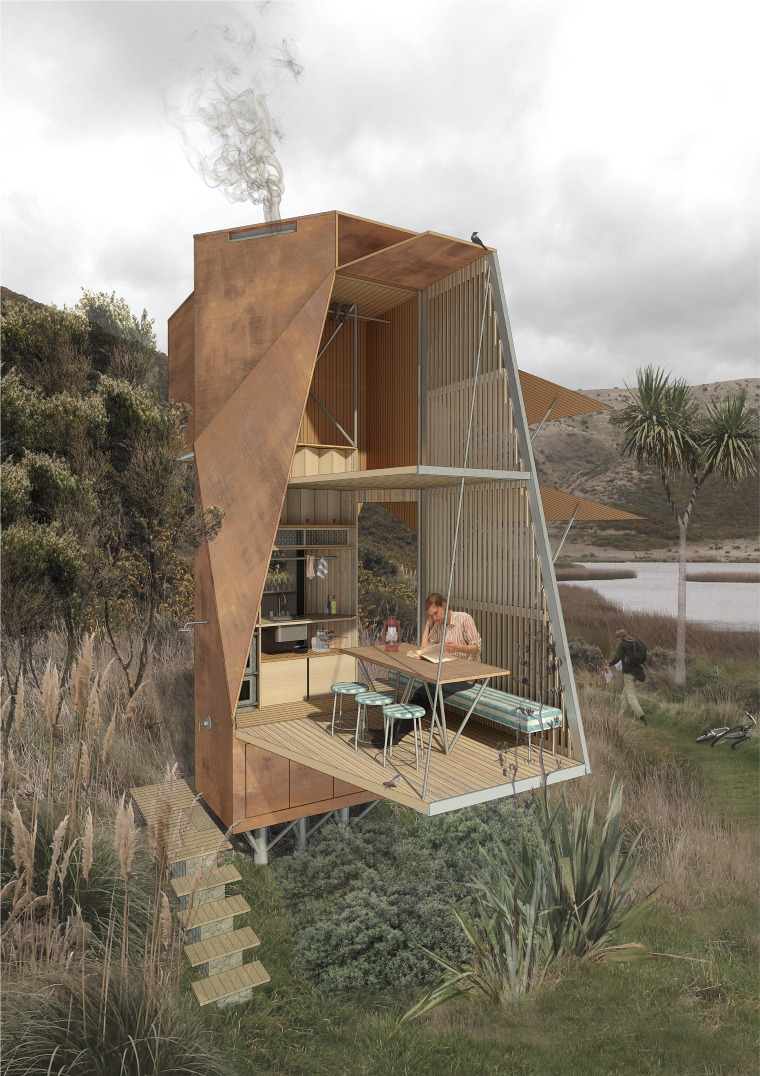 ↑ hut for four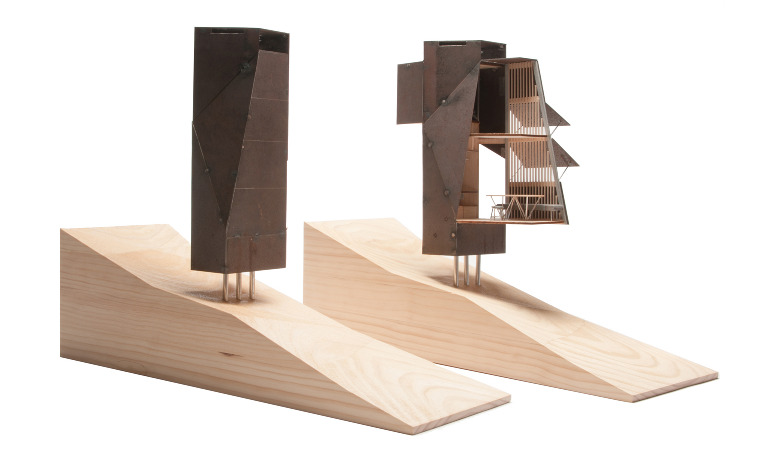 ↑ open/closed physical models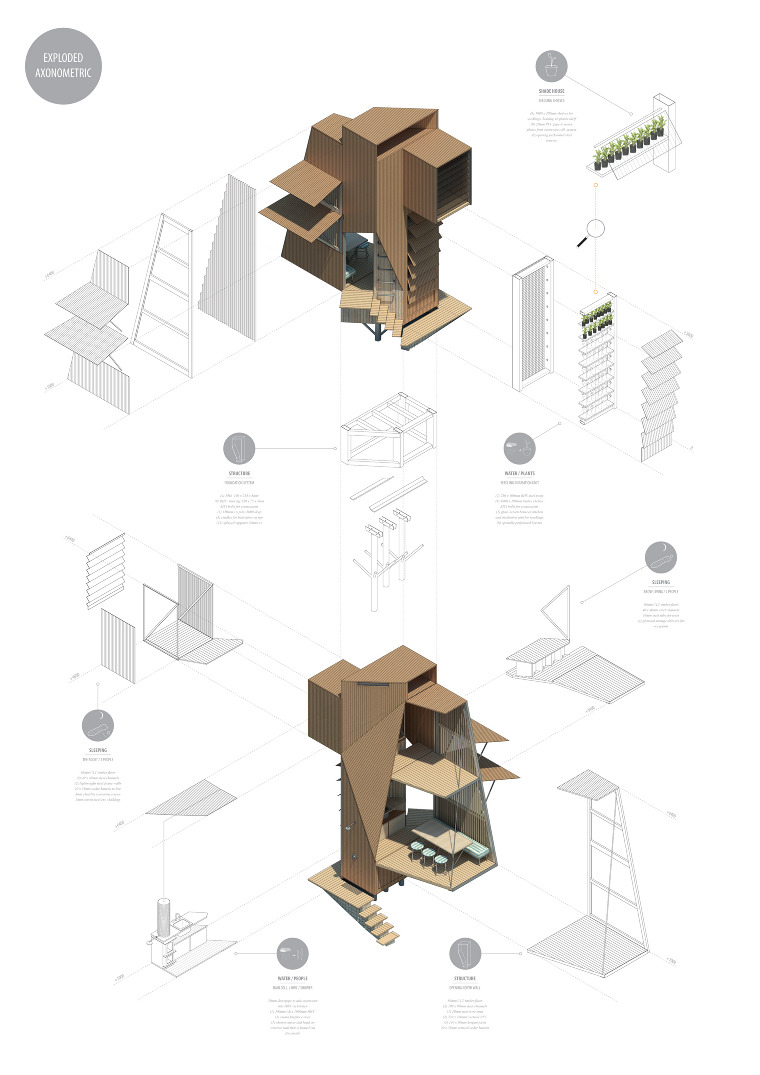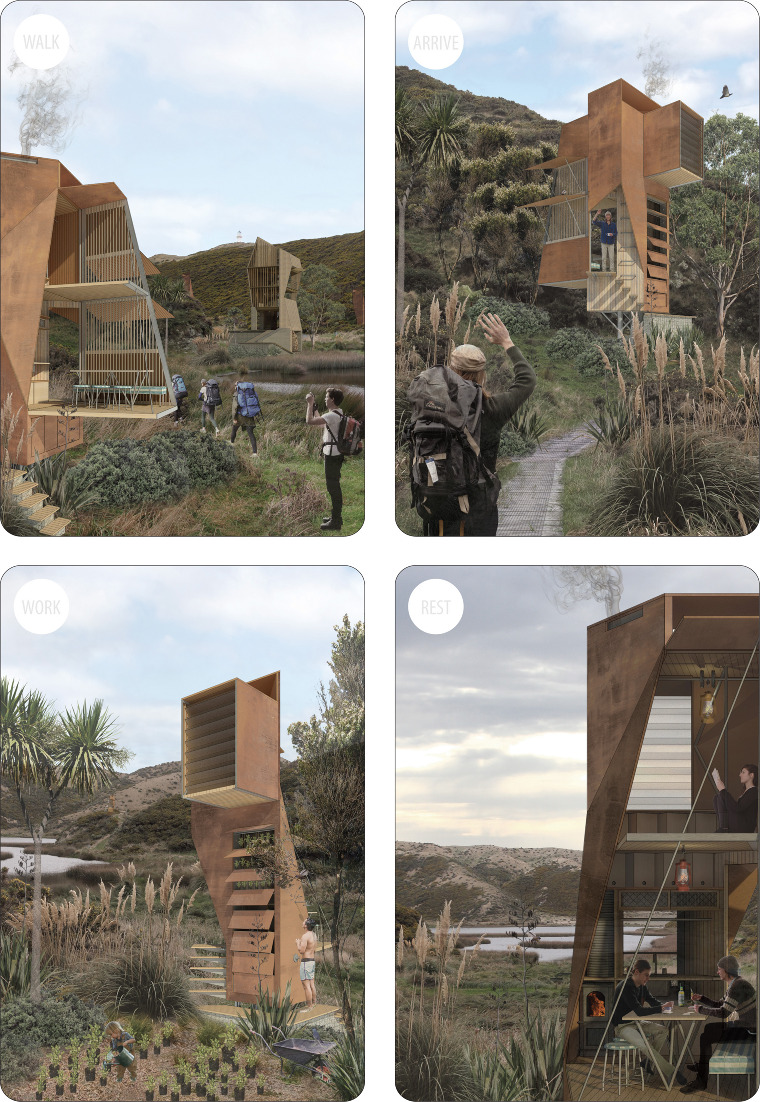 ↑ cycles of living: life on site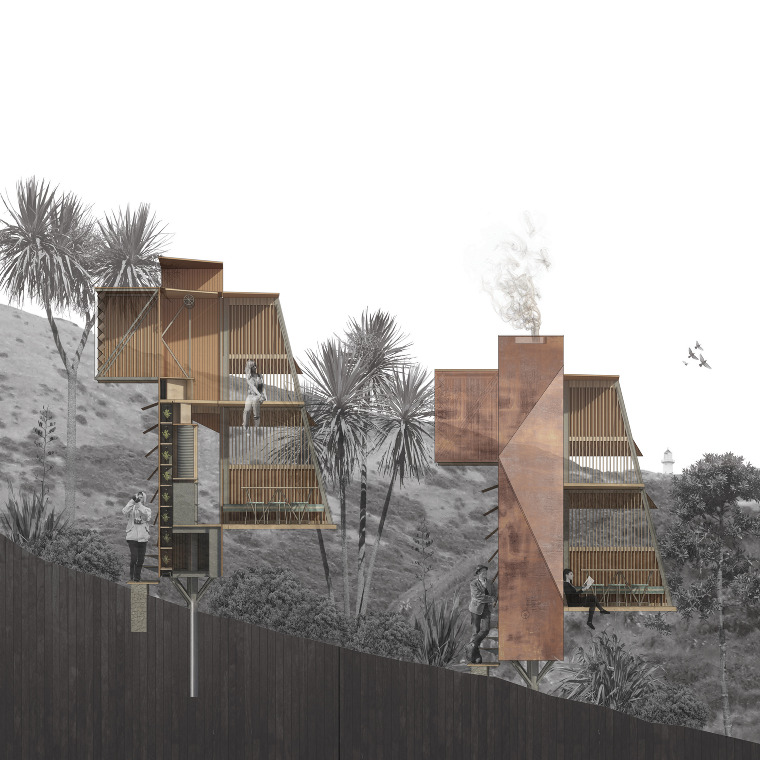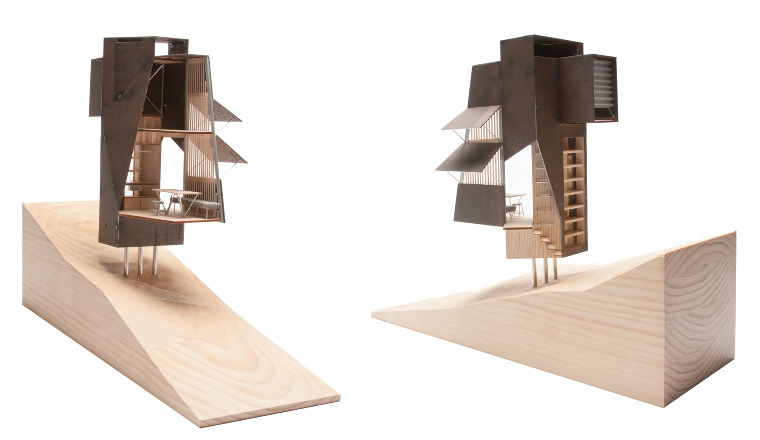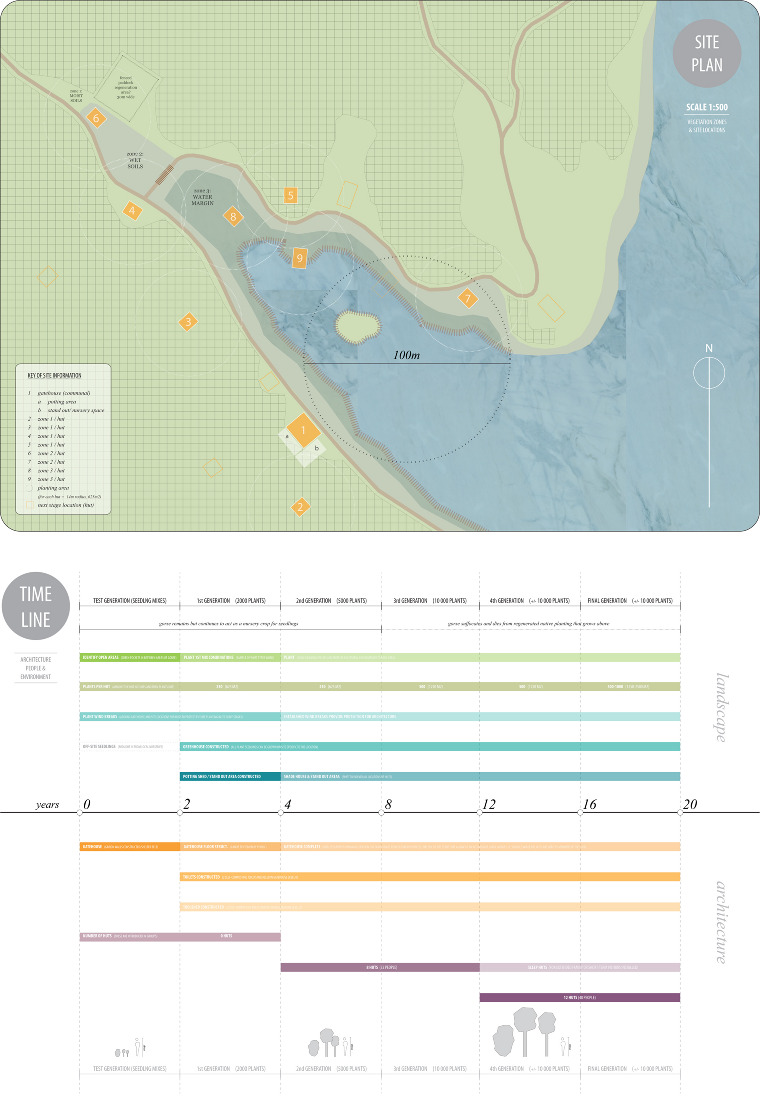 ↑ over the 15-20 year cycle timeline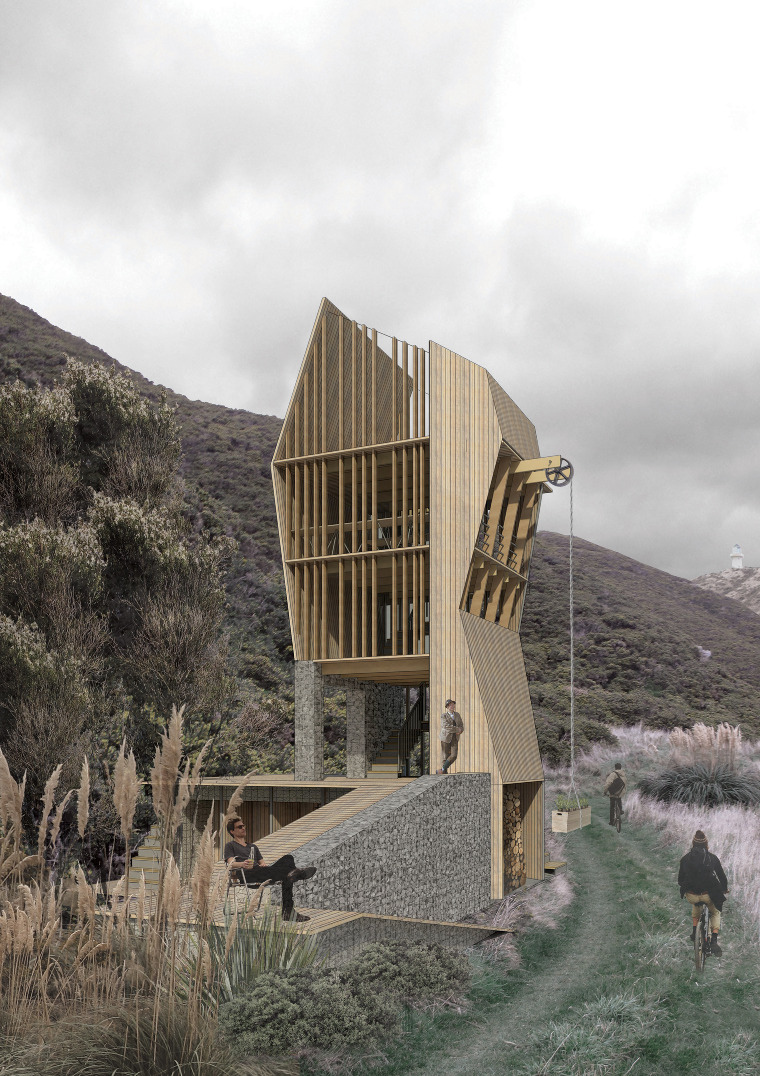 ↑ the gatehouse: communal area