11/06/2015
Sympathetic Farming Communities
Matthew Lacey (website)
The Bartlett School of Architecture, UCL
Unit 19 (website)
Faculty: Mollie Claypool (website), Manuel Jimenez Garcia (website)
2014  
Overview
Based in rural Sicily, highly adaptable tensioned buildings skins are used to adapt to a range of climatic, topological and functional criteria within a transitory scheme. Developed through 1:2 physical prototyping, and a computational-theory based analysis system used to generate sympathetic layouts within the highly charged social context.
The design research begun by looking into an adaptable building skin that could react, either through sensor or manual actuation, to the range of topological parameters, intense climatic variations and varied living and crop growing usage types needed to react to the range of macro inputs from the context guide.
Development
A network of transitory farming communities move seasonally between Sicily's various crop regions, each creating an annual harvest of two crop types in each location, with the aim of dramatically increasing annual agricultural revenues. Due to the new business model, a fresh approach can be taken towards the pivotal immigrant workforce, one that is the antithesis of the current situation: a sympathetic approach.
The material system revolves around creating tensioned building skins to allow choice in usage, and adaptability to the huge range of terrains and climates of rural Sicily. Initially, a tubular solution was created, utilising a corrugated polypropylene skin which was tensioned to change the section of the built unit. Aggregations were formed through patterned joints between multiple cylindrical units. The result was an overly rigid and defined growth system with little variation in scale or spatiality. Next, the versatile tensioned skin was maintained within a more fluid growth model of corrugated domes. This allows greater range in layout and usage.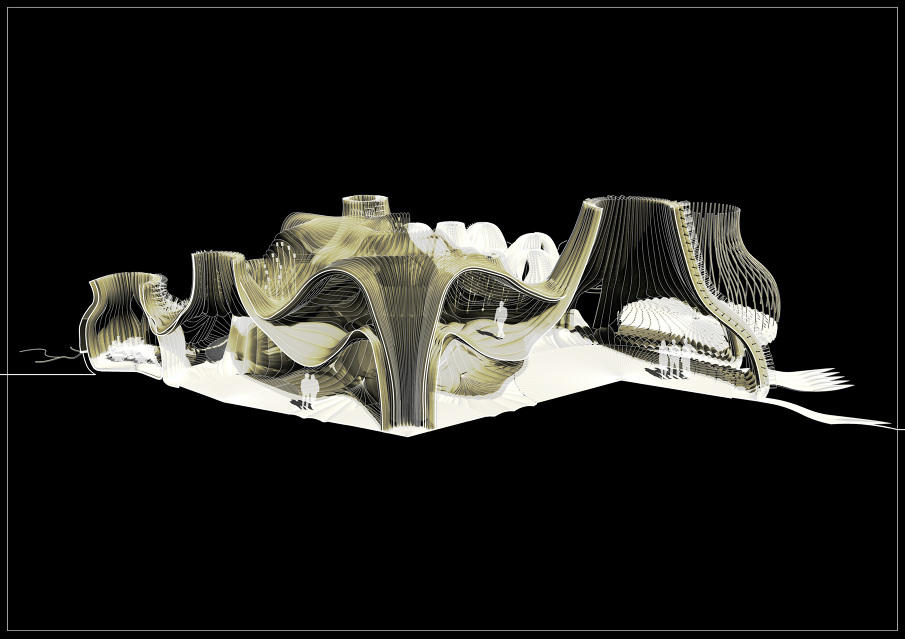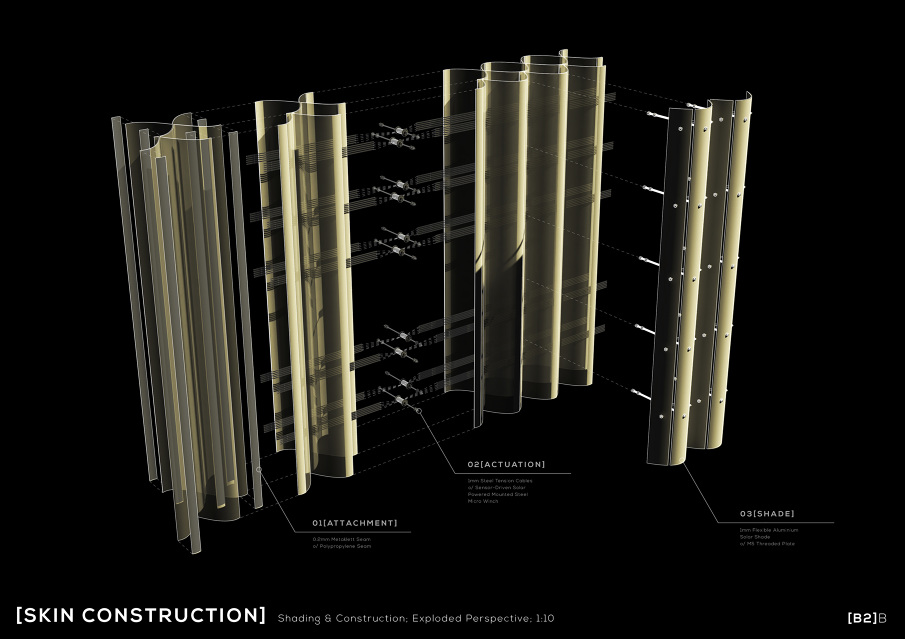 ↑ Communal Spine Section; Visualisation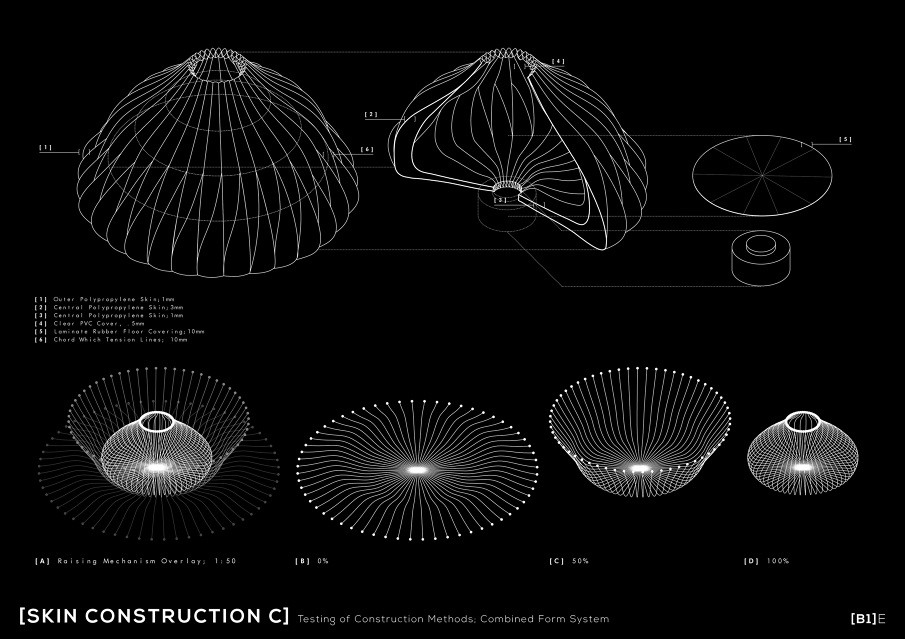 ↑ Dome Unit Construction Principle; Visualisation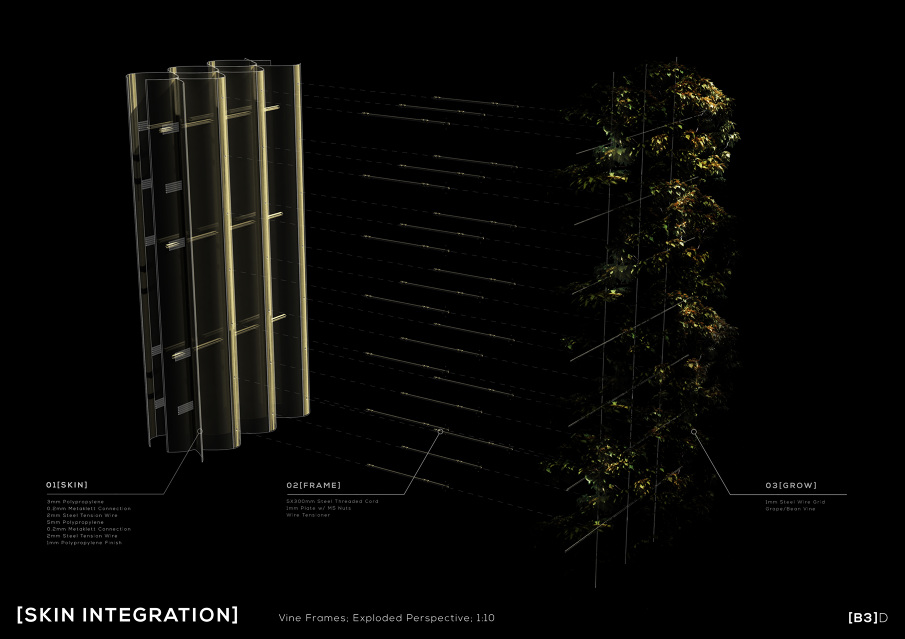 ↑ Crop & Skin Symbiosis; Visualisation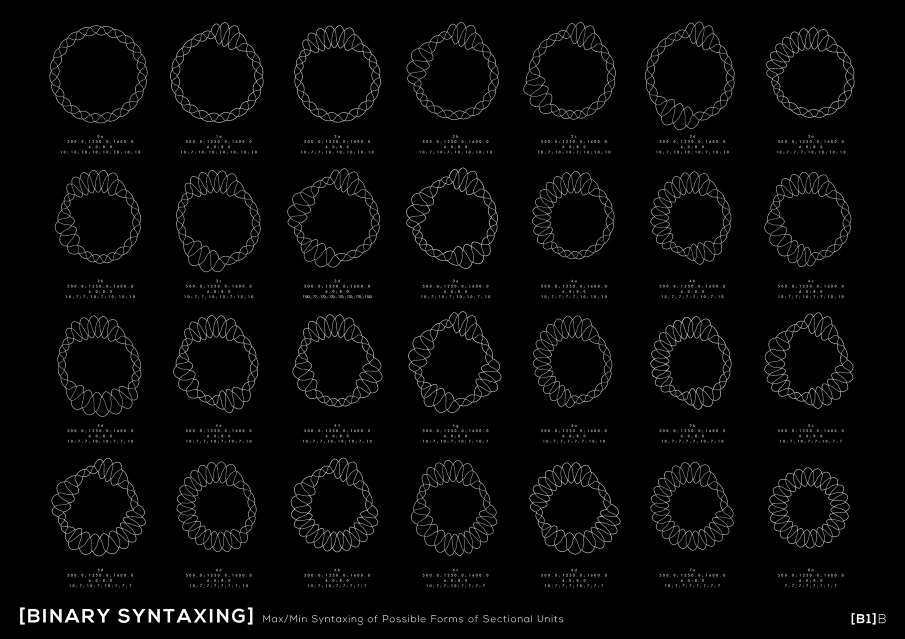 ↑ Kinetic Skin Syntax A; Visualisation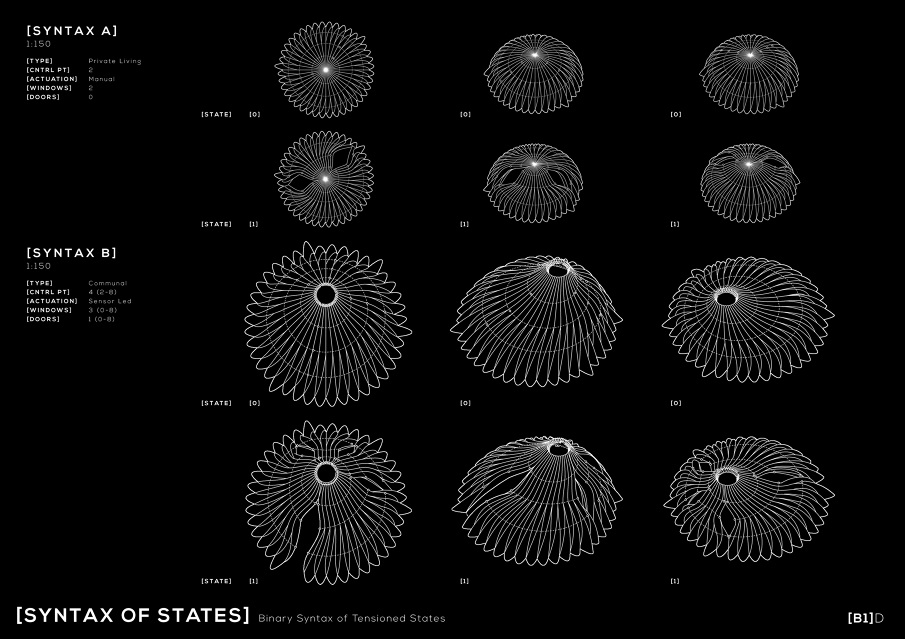 ↑ Kinetic Skin Syntax B; Visualisation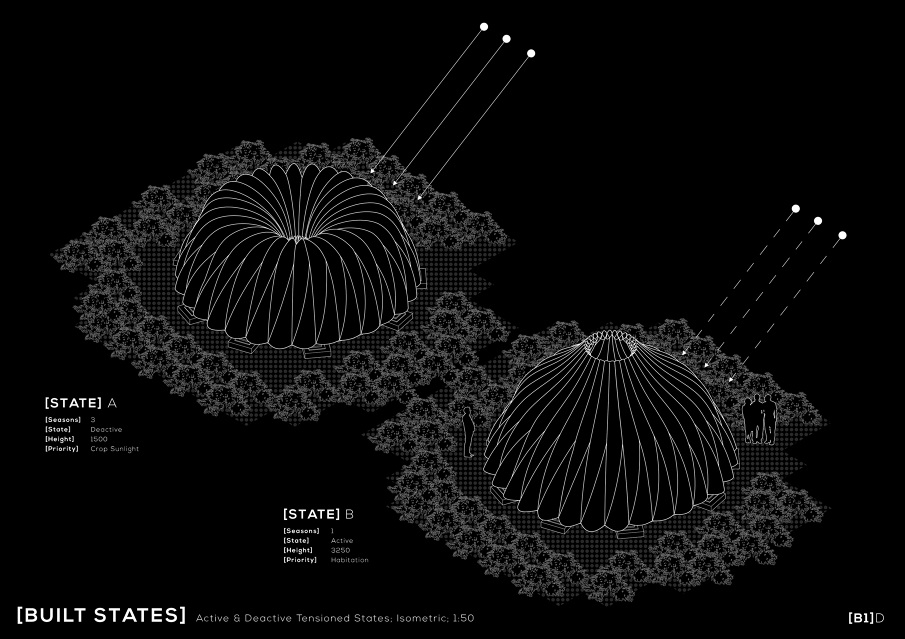 ↑ Kinetic Skin Syntax C; Visualisation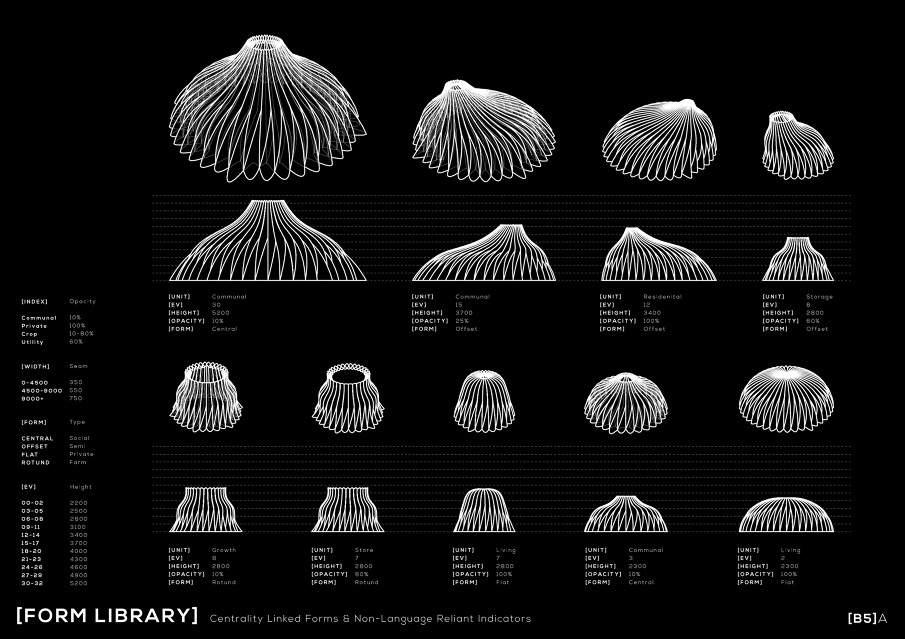 ↑ Form Library; Visualisation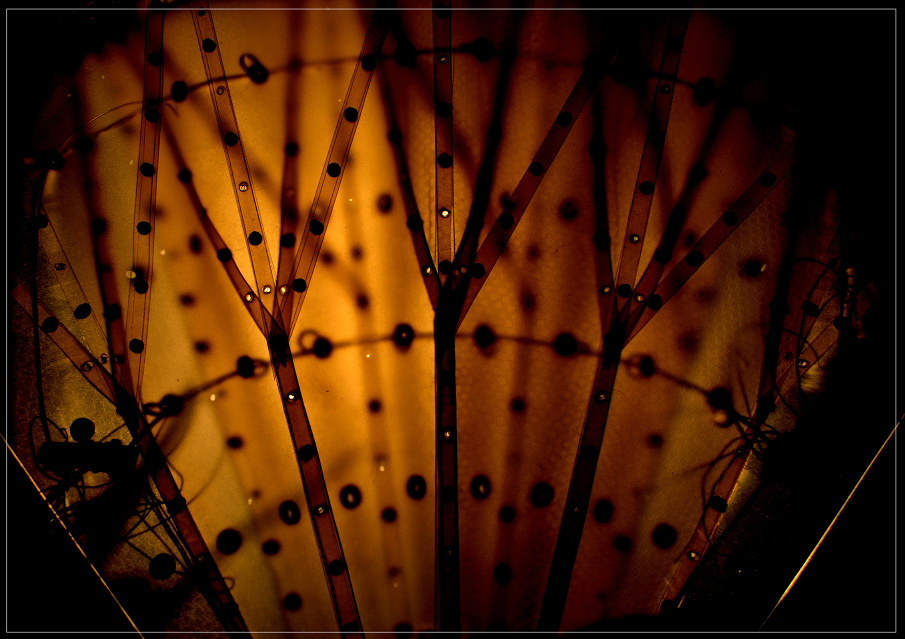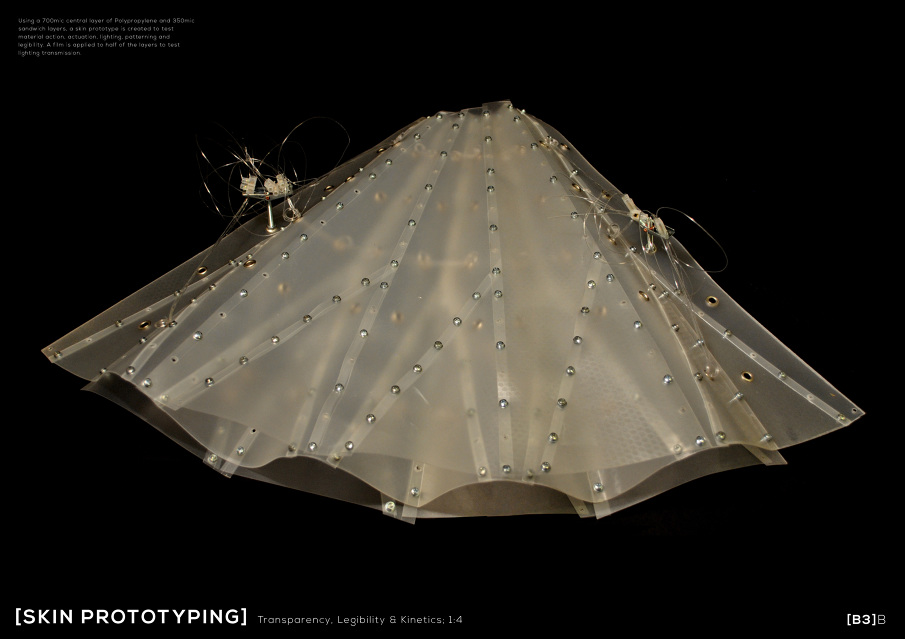 ↑ Skin Prototype 1:4; Model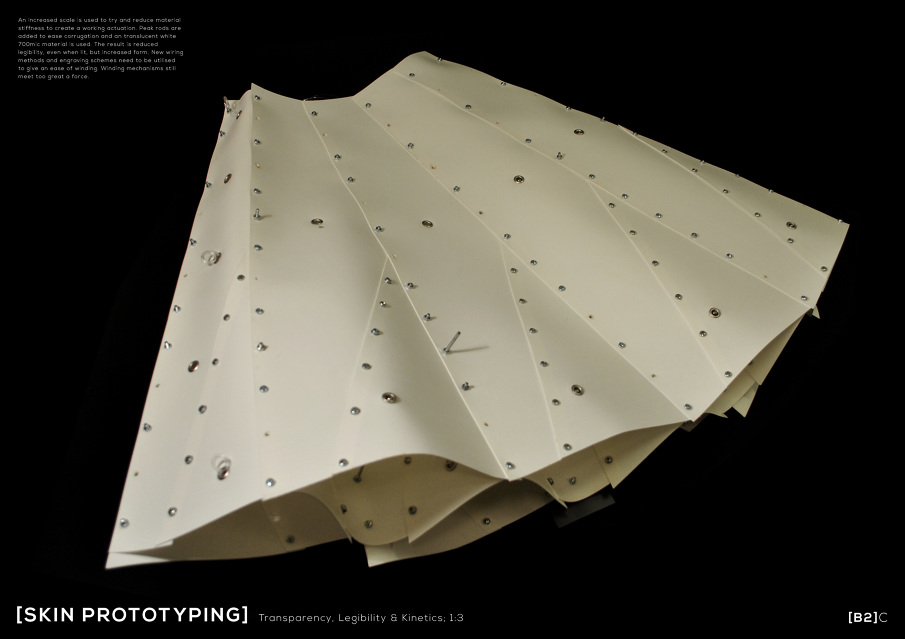 ↑ Skin Prototype 1:3; Model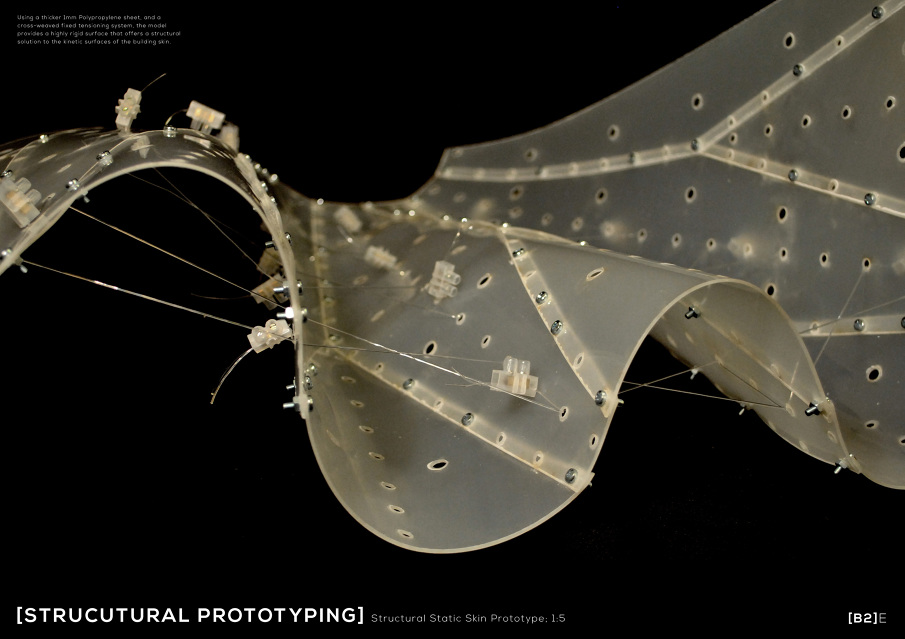 ↑ Skin Prototype 1:5; Model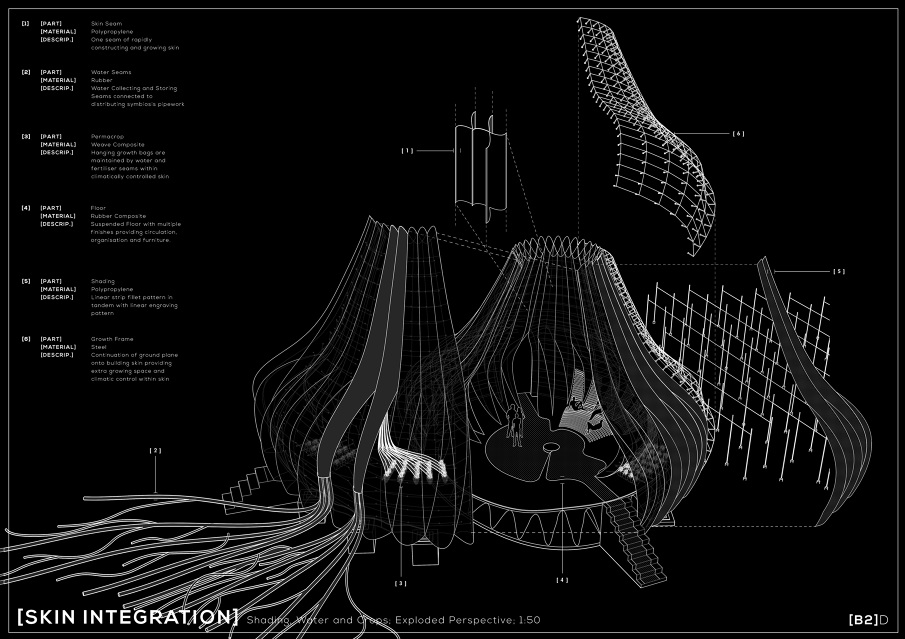 ↑ Skin Integration; Visualisation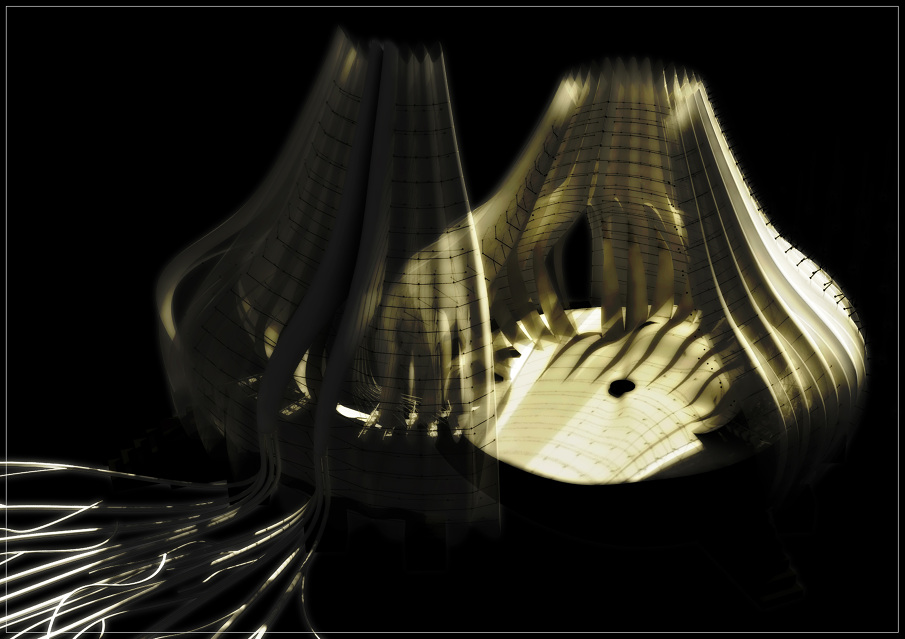 ↑ Skin Integration; Visualisation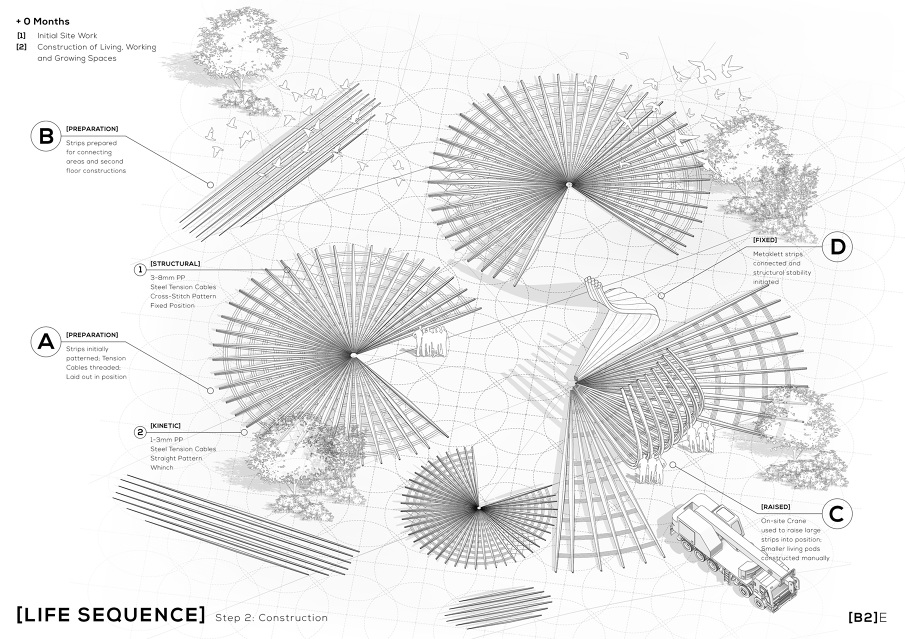 ↑ Scheme Life Cycle Construction; Visualisation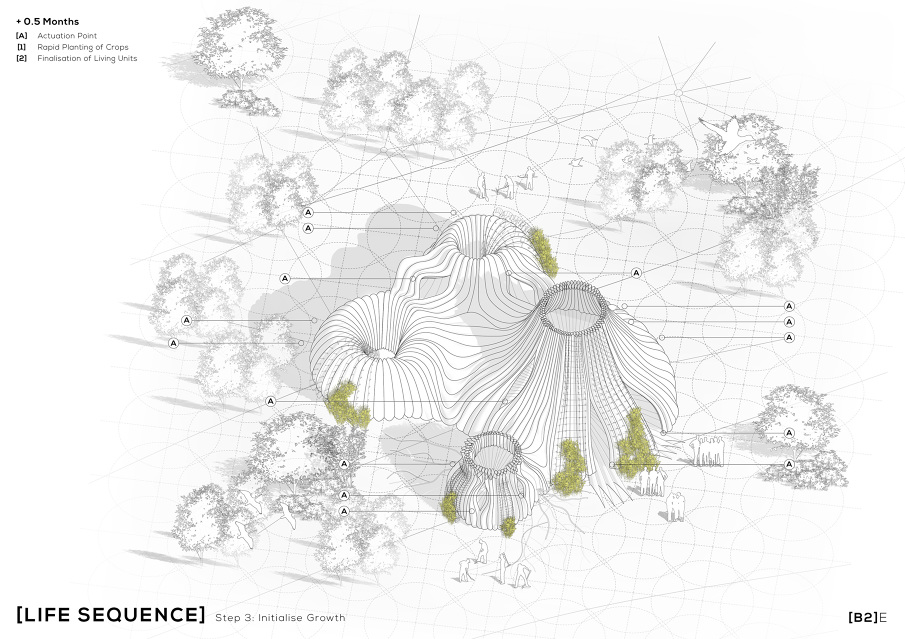 ↑ Scheme Life Cycle Initial Habitation; Visualisation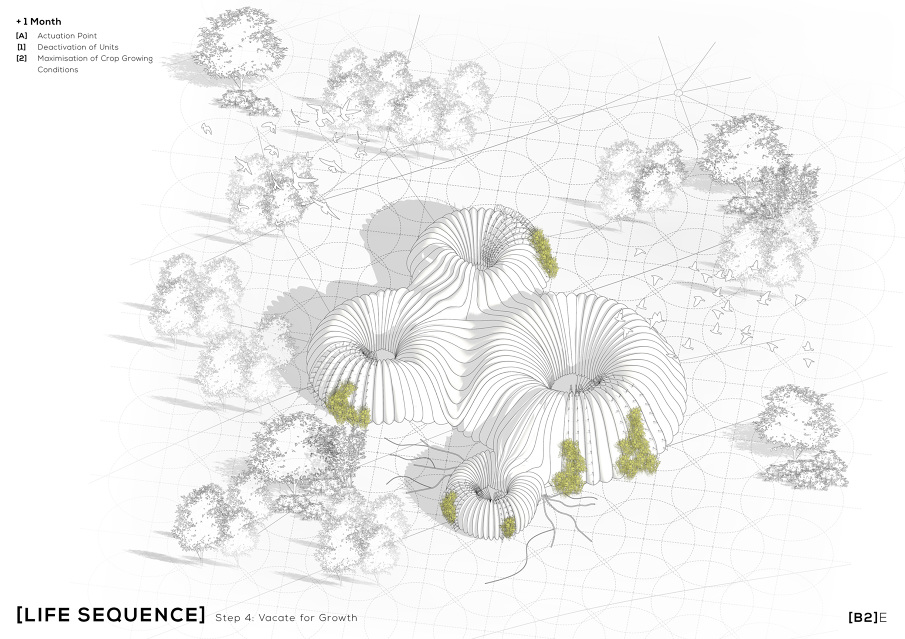 ↑ Scheme Life Cycle Dormancy; Visualisation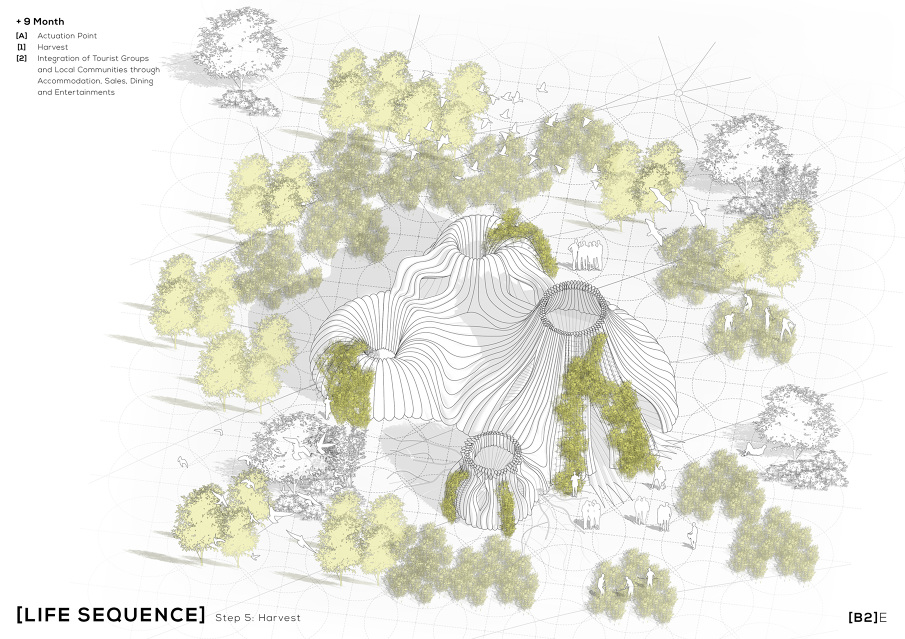 ↑ Scheme Life Cycle Harvest; Visualisation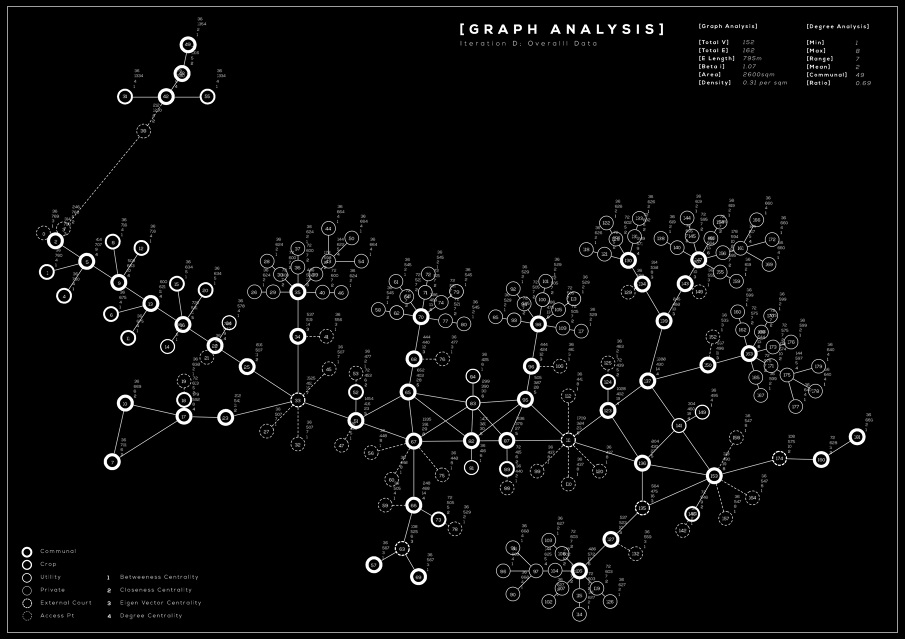 ↑ Graph Theory Based Organisations; Drawing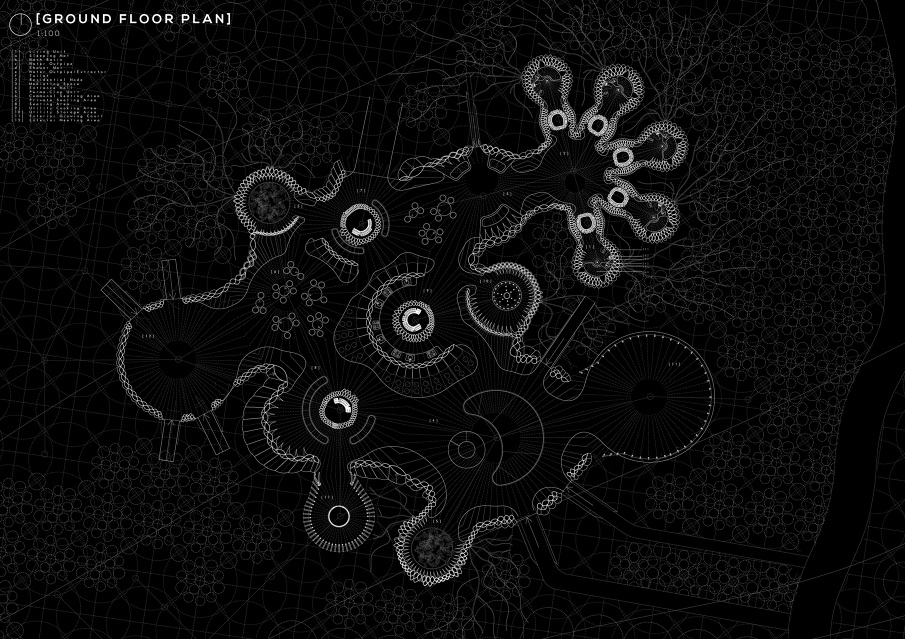 ↑ Ground Floor Plan; Drawing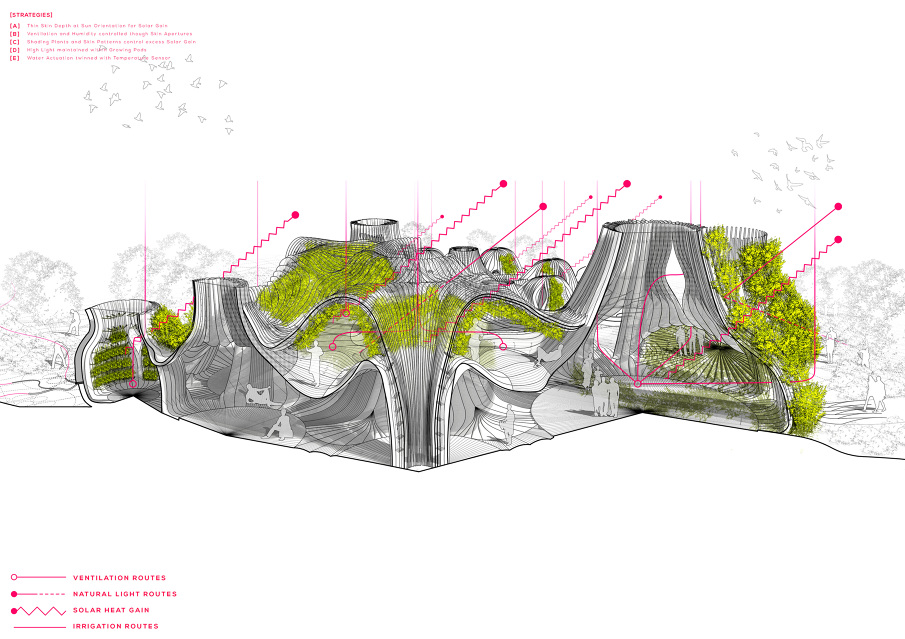 ↑ Communal Spine Section; Visualisation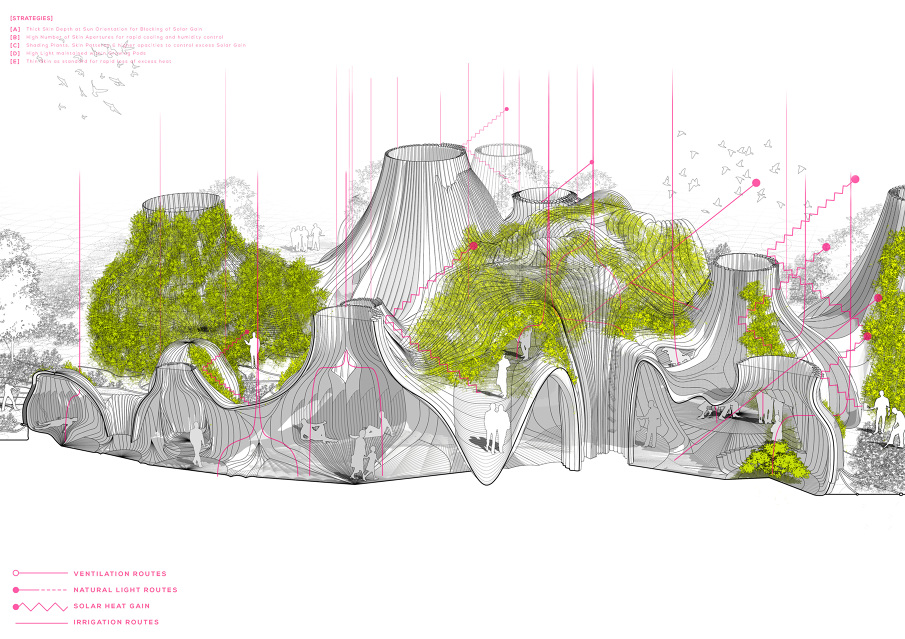 ↑ Private Living Areas Section; Visualisation